There is a panoply of crypto projects despite a more than difficult year in 2022 for the industry. This industry has new technologies that can be exploited in many ways. Therefore, it is logical to see new startups appearing that also want to get started on the blockchain.
In this blog article, we will look at how to buy Dash 2 Trade ERC-20 tokens along with the innovation the platform offers.
In general, Presales are an important step that enables new projects such as "dash 2 trade" to promote what they want to build, as well as obtaining investments allowing the good development of the latter.
In this guide, we will focus on Dash 2 Trade, which is a new cryptocurrency that is offering an automated trading platform as well as crypto analysis tools that will help and facilitate trading for its users.
Introducing the Dash 2 Trade project
Dash 2 Trade (D2T) is a new crypto project that aims to serve all traders and investors in the industry. All traditional stock market traders have tools to help them predict the prices or determine their decisions.
With Dash 2 Trade, it's exactly the same principle as the Bloomberg platform in the world of traditional finance except that this time it's for cryptos. This project wants to bring its share of functionalities, and professional and intelligent analysis to any crypto trader; from beginners to those who have made it their profession.
The goal will therefore be to offer a platform in the form of a dashboard allowing you to follow various crypto-currencies while giving a lot of information about them, whether it is indices, signals, or even graphs.
This platform is under construction, but already functional in addition to being the fruit of many experts from Learn2Trade where they have already built a community of more than 70,000 traders.
Beyond on-chain technical analysis, social trading, and many features available, Dash 2 Trade aims to provide any trader and investor with tools to develop profitable trading strategies.
---
Why invest in the Dash 2 Trade project?
Dash 2 Trade aims to offer the best tools that'll provide you with top-notch information on the various existing cryptos while allowing the development of profitable trading strategies for both beginners and professionals.
Moreover, the Dash 2 Trade tool will use solely the Ethereum blockchain which will cause it to be completely transparent.
Thus, to achieve its ends, Dash 2 Trade is a project that is based on many features that will permit you not to miss any opportunities in the crypto environment while enabling you to follow the progress of new projects in presale.
Accessible and easy to use
There are already many tools on the trading market that often provide loads of data while offering complex analysis. Dash 2 Trade, is just the opposite as it aims to be simple by offering an accessible platform and by measuring the data with simple words.
Dash 2 Trade goes further by offering on-chain analyses and a scoring system for ICOs and presales, as well as an automated API for trading, actionable signals, and also indicators from social networks.
Most of its data is human-verified by a team of traders while others are provided using AI (Artificial Intelligence).
The only intelligent platform that analyzes presales
What makes Dash 2 Trade unique is its ability to offer analytics for even the newest projects and especially pre-sales. As a new investor in the world of cryptocurrencies, investing in presales is risky, as the lack of information makes it difficult to determine the future of a project.
However, Dash 2 Trade will make it possible to analyze with precision, each new crypto project (especially pre-sales) from the moment they raise funds. It will thus be possible to monitor a project as well as the progress of its roadmap and obtain information on tokenomics, community actions, and equally the team behind the project.
It will extremely facilitate the research work that has to be done when one wishes to invest in a new crypto presale by verifying that it is not a scam, while looking at how it is received by the community.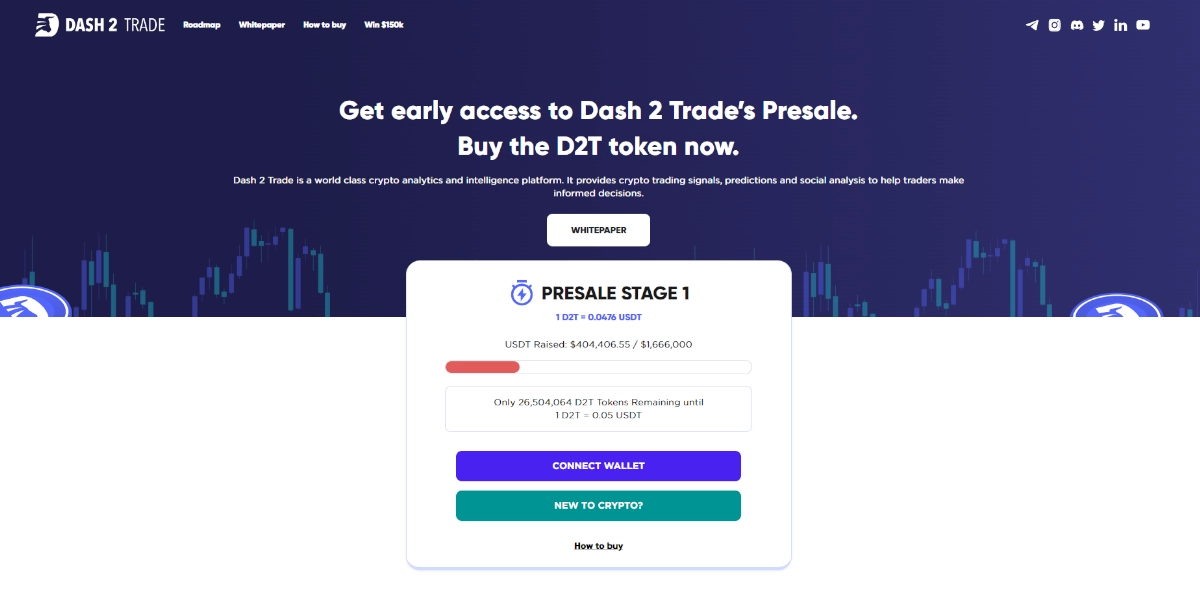 Never miss an opportunity
The crypto-currency sector is changing very quickly and although this can be a positive point, on a human scale it remains very complex to be able to follow all the new projects that are emerging. Take CoinSniper, for example, which lists no less than 100 presales per week, it is difficult to be able to keep an eye on the status of all these projects.
However, with Dash 2 Trade that is exactly the goal! Indeed, Dash 2 Trade aims to monitor the entire market and provide a global vision that'll allow traders and investors to make the right choices in order to be profitable.
A profitable market
The Dash 2 Trade project has great potential because crypto trading is a big business.
Recall that the first exchange platform in the world, Binance is valued at 300 billion dollars. There are many companies that have entered a market similar to Dash 2 Trade, that is to say, providing information on the crypto sector, and offering reliable and accurate data in order to help traders and investors.
Also, beyond the automated trading side, with Dash 2 Trade there is the possibility to follow projects like pre-sales and ICOs well before they are launched on the market. This represents an important part of the business of traders and investors.
A monthly subscription
Like many tools offering analysis, Dash 2 Trade works with a monthly subscription, but unlike many of its competitors, the price is intended to be affordable. It will therefore be possible to pay for your subscription using D2T tokens. In addition, there are a total of three tiers, the first of which is completely free.
Free Tier
The free tier serves as an introduction to the Dash 2 Trade platform. No subscription is necessary to access it, nor to have D2T tokens. You will be able to use the tool, but with a number of limited features.
It will not be possible to access automated trading tools via this level, all accessible information will concern crypto-currencies and certain pre-sales only, but in a more limited quantity than for the higher levels.
The purpose of the free level is mainly to discover the tool of the Dash 2 Trade platform and in particular, its potential.
In order to obtain profitable advice and more specific analyzes it will be necessary to subscribe to one of the higher tiers.
Standard Tier
The standard tier provides more analytics and especially access to advanced on-chain data as well as basic pre-sale information not to be missed. There will also be access to market indicators and also social metrics.
It will be possible to create a maximum of two watchlists.
In addition, with this level, you will have access to automated trading tools in addition to having the possibility of using tools to create your strategy and test it on a suitable platform. As a bonus, there is a discord channel reserved for members of this level. The monthly subscription will cost 400 D2T.
Premium Tier
The premium tier obviously gives access to all the features of Dash 2 Trade for a monthly cost of 1000 D2T, or 9600 D2T if you take an annual subscription (a reduction of 20%).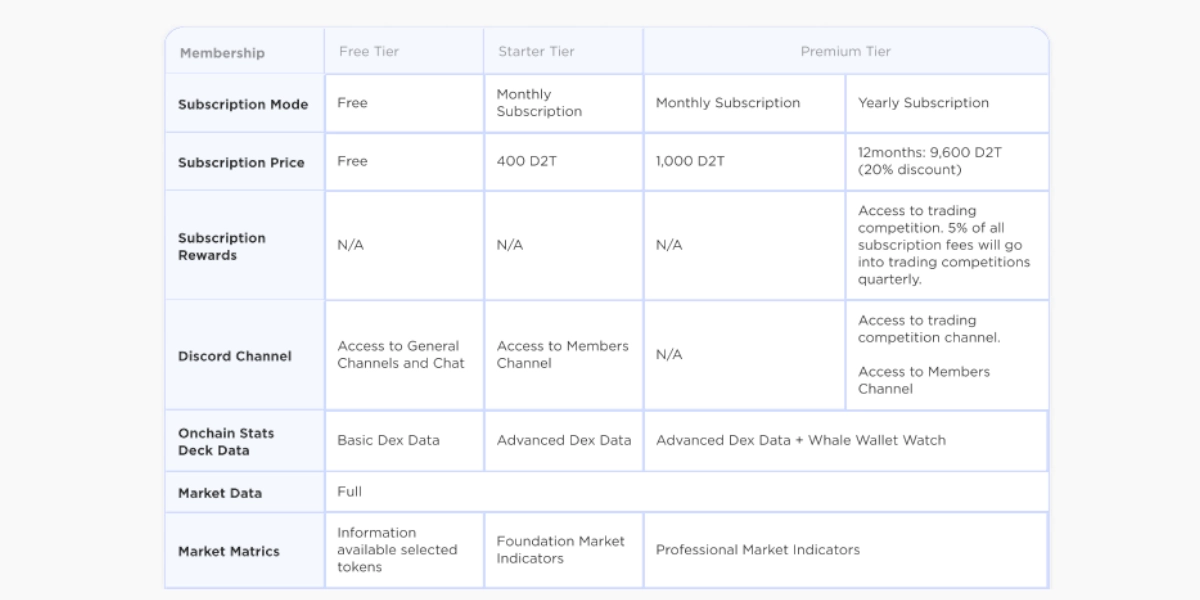 With this level, you will notably have access to alerts and social metrics in real-time as well as professional market indicators. In addition, there will be analysis and articles on which pre-sales to favor, but also live events that'll give you more information on the market.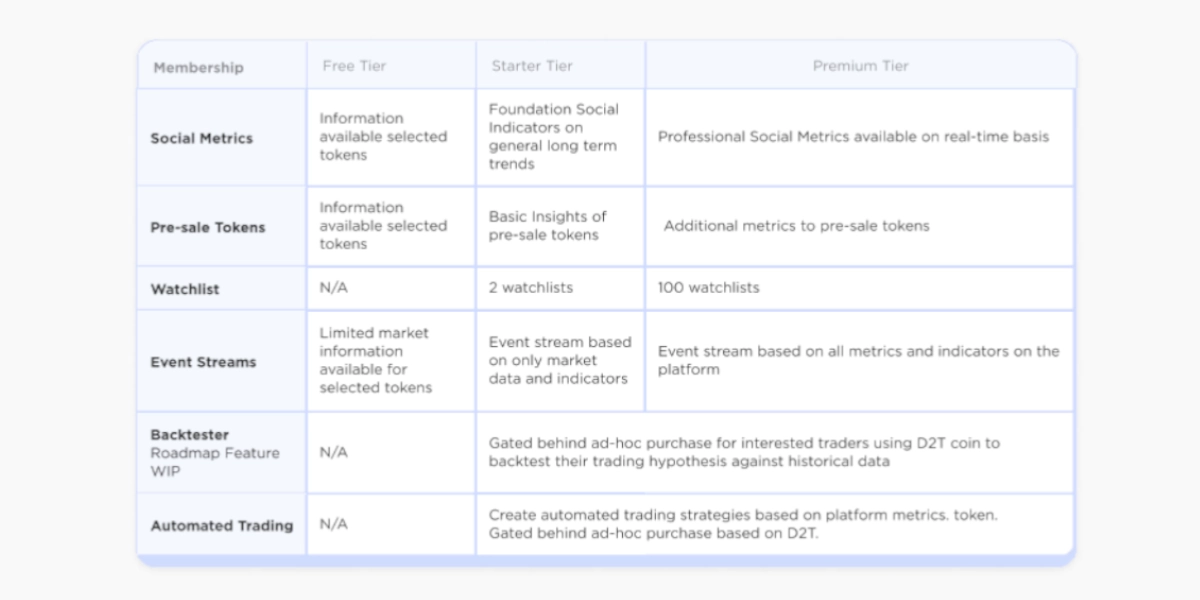 ---
What are the different stages of the Dash 2 Trade pre-sale?
The pre-sale of the Dash 2 Trade project started on October 19, 2022.
Within hours, over $400,000 was invested. This is the first pre-sale phase of many to come. A total of 9 phases are planned as follows:
| | | |
| --- | --- | --- |
| Phase | Amount raised per phase | Token name for sale |
| Phase 1: 0.0476 $ | 1,666,000 $ | 35,000,000 |
| Phase 2: 0.0500 $ | 3,500,000 $ | 70,000,000 |
| Phase 3: 0.0513 $ | 3,591,000 $ | 70,000,000 |
| Phase 4: 0.0533 $ | 4,663,750 $ | 87,500,000 |
| Phase 5: 0.0556 $ | 4,865,000 $ | 87,500,000 |
| Phase 6: 0.0580 $ | 5,075,000 $ | 87,500,000 |
| Phase 7: 0.0606 $ | 5,302,500 $ | 87,500,000 |
| Phase 8: 0.0635 $ | 5,556,250 $ | 87,500,000 |
| Phase 9: 0.0662 $ | 5,792,500 $ | 87,500,000 |
Thus, the first phase of the D2T presale will take place from October 19, 2022, to January 31, 2023, unless all the tokens are sold before this deadline.
This will directly trigger the second phase. Knowing that for this first phase, there are 35 million tokens available at a price of $0.0476 for a D2T token. During the second phase, the price will rise to $0.05 and the same logic will take place in each phase with an increase in the price of the token.
In total, there will be 700 million D2T tokens available for the presale.
How to participate in the presale and buy D2T tokens?
If you have never participated in a presale, here are the detailed steps to become an investor by buying D2T tokens.
Presales involve risk but are also an excellent opportunity to generate significant profits.
In general, the price of the token increases between the presales phases, which already makes it possible to make profits by buying as soon as possible. So, if your goal is to invest in Dash 2 Trade, do it as soon as possible.
Dash 2 Trade is an ERC-20 token based on the Ethereum blockchain.
Here are the steps to follow in order to be able to buy D2T tokens:
Step 1: go to the official presale website
The first step is very simple, you just need to go to the official Dash 2 Trade website. This is the only place where you can buy D2T tokens during the presale.
Step 2: connect your crypto wallet to the official website
In order to be able to connect your crypto wallet to the official Dash 2 Trade website, you must of course have one beforehand. Don't panic, if you don't have one, it's very easy to acquire and free of charge.
There is a multitude of them, but one of the most well-known and secure is Metamask.
The configuration of your crypto wallet is done in a few minutes and it exists in the form of a plugin in your web browser or on mobile. Once you've downloaded and configured it, just click on "connect wallet" on the official Dash 2 Trade website.
Step 3: buy D2T tokens
Your crypto wallet is connected to the official Dash 2 Trade website, you can now buy D2T tokens.
For this, you will need either ETH (Ethereum) or USDT (Tether) in your wallet. If you don't have one, you will first have to buy one via an exchange platform such as eToro or OKX.
Related: Where and how to buy a cryptocurrency
Another option is to buy ETH crypto directly through the official Dash 2 Trade website from Transak by credit card. Please note that you will have to pay at least a minimum amount of $20.
---
Finally, once you are in possession of your ETH or USDT, all you have to do is define the number of D2T tokens you want and click on "buy". You will need to validate the transaction via your crypto wallet and you will be done. Your tokens will then be available at the end of the presale where a "claim" button will be accessible in order to be able to transfer them to your crypto wallet.
Tokenomics and other information about the project team
There will be a total of 1 billion D2T tokens in circulation, including 700 million for the presale. Then the remaining 300 million are distributed as follows:
50 million D2T for liquidity via exchanges
50 million D2T to recruit talented employees
150 million for the development and growth of the project
50 million D2T for the competition pool
Project members
Social networks
---
D2T Token Price Prediction
The presale of D2T started at the price of $0.0476 and the final price at the end of the presale will be $0.0662. Which is almost 40% growth from the initial price.
It is difficult to predict the price over the long term, especially for a project at the initial stage. However, unlike many pre-sales, Dash 2 Trade already has functional tools that are under development. In addition, the target environment is vast and such a platform has the potential to attract many investors as well as traders.
There is therefore a good chance that when the project is launched on exchanges at the end of the presale the value of the D2T token will take x5 in a few days. The project seems to appeal, especially when $400,000 has already been invested just a few hours after the launch of the presale.
---
Conclusion on the Dash 2 Trade project
Dash 2 Trade is therefore based on the Ethereum blockchain and aims to provide a platform offering tools aimed at all crypto investors and traders, both beginners and professionals.
The goal of the project is to provide reliable data while proposing strategies to be profitable. The strong point of the platform is its ability to analyze presales (and ICO), but also to offer clear information using a few words easily explaining the situation while allowing to have a global eye on the whole market.
---
What is the D2T token?
D2T is a token that will be used on the Dash 2 Trade platform, in particular, to pay for its monthly subscription, but also in the competition pool for premium tier members.
How to buy D2T tokens?
It is possible to buy D2T tokens via the
official website using USDT or ETH using your crypto wallet.